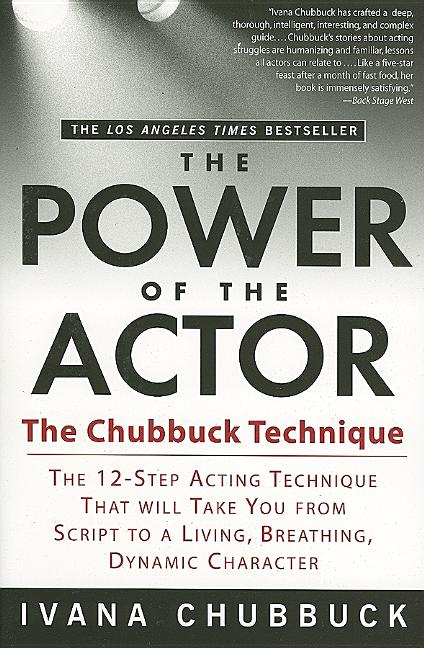 In The Power of the Actor, a Los Angeles Times bestseller, premier acting teacher and coach Ivana Chubbuck reveals her cutting-edge technique, which has launched some of the most successful acting careers in Hollywood.
The first book from the instructor who has taught Charlize Theron, Brad Pitt, Elisabeth Shue, Djimon Hounsou, and Halle Berry, The Power of the Actor guides you to dynamic and effective results. For many of today's major talents, the Chubbuck Technique is the leading edge of acting for the twenty-first century. Ivana Chubbuck has developed a curriculum that takes the theories of the acting masters, such as Stanislavski, Meisner, and Hagen, to the next step by utilizing inner pain and emotions, not as an end in itself, but rather as a way to drive and win a goal.
In addition to the powerful twelve-step process, the book takes well-known scripts, both classic and contemporary, and demonstrates how to precisely apply Chubbuck's script-analysis process. The Power of the Actor is filled with fascinating and inspiring behind-the-scenes accounts of how noted actors have mastered their craft and have accomplished success in such a difficult and competitive field.
"From Fay's methodology, I learned to use my intuition and lived experiences in myriad new ways." —Winston Duke, actor, Black Panther, Avengers, Us, and Nine Days
Engaging Mind and Body to Develop the Complete Physical Nature of Characters
Actors are shape-shifters, requiring the tools to wade into unfamiliar waters and back out again. The Lucid Body offers a holistic, somatic approach to embodying character from the inside-out and, for the non-actor, offers a way to give hidden parts of the self their full expression. By identifying stagnant movement patterns, this process expands one's emotional and physical range and enables the creation of characters from all walks of life—however cruel, desolate, or jolly. Rooted in the exploration of the seven chakra energy centers, The Lucid Body reveals how each body holds the possibility of every human condition. Readers will learn how to:
Practice a non-judgmental approach to the journey of self-awareness

Break up stagnant and restrictive patterns of thought and movement

Allow an audible exhale to be the key to unlocking the breath

Develop a mindset to "hear" one's inner body

Analyze the human condition through the psycho-physical lens of the chakras

Experience the safety of coming back to a neutral body

Acquire a sense of clarity and calm in one's everyday life
A step-by-step program guides the actor through the phases of self-awareness that expand emotional and physical range not only on stage, but also in daily life. This new edition includes a more diversified range of playwrights, non-binary language, and new chapters on stage intimacy protocol and physical listening. Exercises that have been honed for the past ten years have been made more concise. New somatic and neuro-scientific data has been added, with additional wisdom and insights from colleagues and Simpson's team of Lucid Body teachers.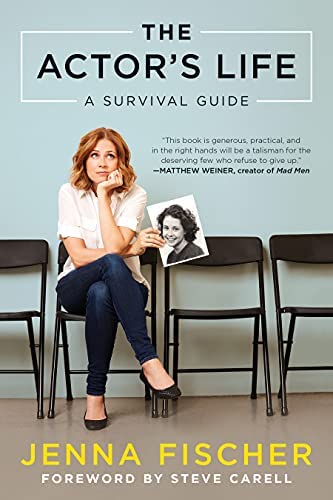 Jenna Fischer's Hollywood journey began at the age of 22 when she moved to Los Angeles from her hometown of St. Louis. With a theater degree in hand, she was determined, she was confident, she was ready to work hard. So, what could go wrong?
Uh, basically everything.  The path to being a professional actor was so much more vast and competitive than she'd imagined.  It would be eight long years before she landed her iconic role on The Office, nearly a decade of frustration, struggle, rejection and doubt.
If only she'd had a handbook for the aspiring actor. Or, better yet, someone to show her the way—an established actor who could educate her about the business, manage her expectations, and reassure her in those moments of despair.
Jenna wants to be that person for you.
With amusing candor and wit, Fischer spells out the nuts and bolts of getting established in the profession, based on her own memorable and hilarious experiences.  She tells you how to get the right headshot, what to look for in representation, and the importance of joining forces with other like-minded artists and creating your own work—invaluable advice personally acquired from her many years of struggle.  She provides helpful hints on how to be gutsy and take risks, the tricks to good auditioning and callbacks, and how not to fall for certain scams (auditions in a guy's apartment are probably not legit—or at least not for the kind of part you're looking for!).
Her inspiring, helpful guidance feels like a trusted friend who's made the journey, and has now returned to walk beside you, pointing out the pitfalls as you blaze your own path towards the life of a professional actor.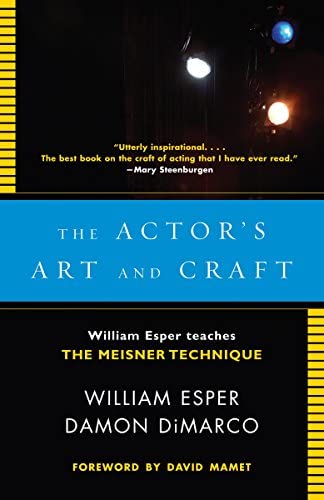 William Esper, one of the leading acting teachers of our time, explains and extends Sanford Meisner's legendary technique, offering a clear, concrete, step-by-step approach to becoming a truly creative actor.Esper worked closely with Meisner for seventeen years and has spent decades developing his famous program for actor's training. The result is a rigorous system of exercises that builds a solid foundation of acting skills from the ground up, and that is flexible enough to be applied to any challenge an actor faces, from soap operas to Shakespeare. Co-writer Damon DiMarco, a former student of Esper's, spent over a year observing his mentor teaching first-year acting students. In this book he recreates that experience for us, allowing us to see how the progression of exercises works in practice. The Actor's Art and Craft vividly demonstrates that good training does not constrain actors' instincts—it frees them to create characters with truthful and compelling inner lives.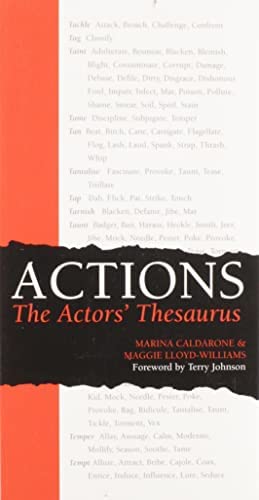 An essential companion for actors in rehearsal – a thesaurus of action words to revitalize performance.
From the Publisher
This new book just released by Drama Publishers gathers together — for the first time — the acting communitys – formerly secret lists of action words and makes them available in an organized and comprehensive format.
From the Author
ACTIONS is primarily for actors:
for established professionals and beginners alike;
for students or amateur actors;
for those with training and those without.ACTIONS can also be useful:
for music theatre performers;
for actors wrestling with audition speeches;
for those who have to breathe life into a one-dimensional television or radio commercial;
or for those who have been performing a play for months and need to reinvigorate their performance.
Comments
comments