In recent years, the entertainment industry has witnessed a significant shift in the audition process with the rise of self-taped auditions. As technology advances and remote work becomes more commonplace, casting directors and producers have embraced this cost-effective and efficient method of evaluating performers. While self-taped auditions have proven to be a game-changer in the casting process, certain challenges have arisen, particularly concerning the need for reasonable regulations. This article explores the current state of self-taped auditions, focusing on the issues surrounding online casting platforms and the ongoing negotiations for setting fair and practical rules for actors.
Online Casting Platforms: Equity and Fairness
One of the primary concerns raised by performers in the industry is the requirement to pay for access to employment opportunities through online casting platforms. It is essential to ensure that actors are not exploited and are provided with equitable access to casting opportunities, regardless of their financial capabilities. Casting platforms should refrain from offering preferential treatment in exchange for fees, ensuring a level playing field for all actors.
Self-Taped Auditions: Striking a Balance
Performers have expressed the need for reasonable regulations. To create a fair and efficient auditioning process, several proposals have been put forth:
1. Establishing Turnaround Time: A minimum turnaround time for self-taped auditions for adults and minors (excluding weekends and holidays) should be established to allow actors ample time to prepare their submissions.
2. Transparency in Casting: Casting directors should disclose if an offer is already out or if the role has been cast when requesting self-taped auditions. This would prevent actors from investing time and effort in auditions for roles that are no longer available.
3. Limiting First Call Pages: Setting a limit on the number of pages for a first call can help reduce the time and cost involved in preparing auditions.
Online Casting Platforms: Areas of Improvement
While some progress has been made, certain areas  remain contentious:
1. Enforcement Mechanisms: Performers have urged the implementation of enforcement mechanisms to ensure compliance with the agreed-upon regulations. An "honor system" alone may not be sufficient to safeguard actors' interests.
2. Turnaround Time: Casting platforms should consider excluding weekends and holidays from the turnaround time calculation, as actors should not be under pressure to submit auditions during non-working days.
3. Providing Essential Information: It is essential that performers receive comprehensive information about the project and role at the time an audition is requested. This includes details such as tone, style, genre, period, creative vision, character description, and accent.
4. Limitations on Technical Requirements: Tentative agreements have been made regarding technical requirements for self-taped auditions, such as recording quality, cameras, lights, microphones, backgrounds, editing software, and uploading services. These should be carefully considered and enforced to prevent additional financial burdens on actors. There is not way to eliminate casting's "preference" for viewing more polished and professional self tapes, nor is there a way to eliminate the fact that poorly done self auditions are hard toe even sit through and watch.
5. Slate Requirements: The inclusion of vertical/portrait full-body shots in slate requirements has been tentatively agreed upon, aiming for a more inclusive and diverse representation of performers.
6. Respectful Auditions: Online casting platforms should ensure that performers are not asked to audition in the nude or perform dangerous stunts without adequate safety precautions.
7. Regulations for Dancers: For dancers, it has been proposed that music and choreography be provided, and performers not be required to choreograph or improvise. Additionally, space and time limitations should be observed, and solo dances should be encouraged.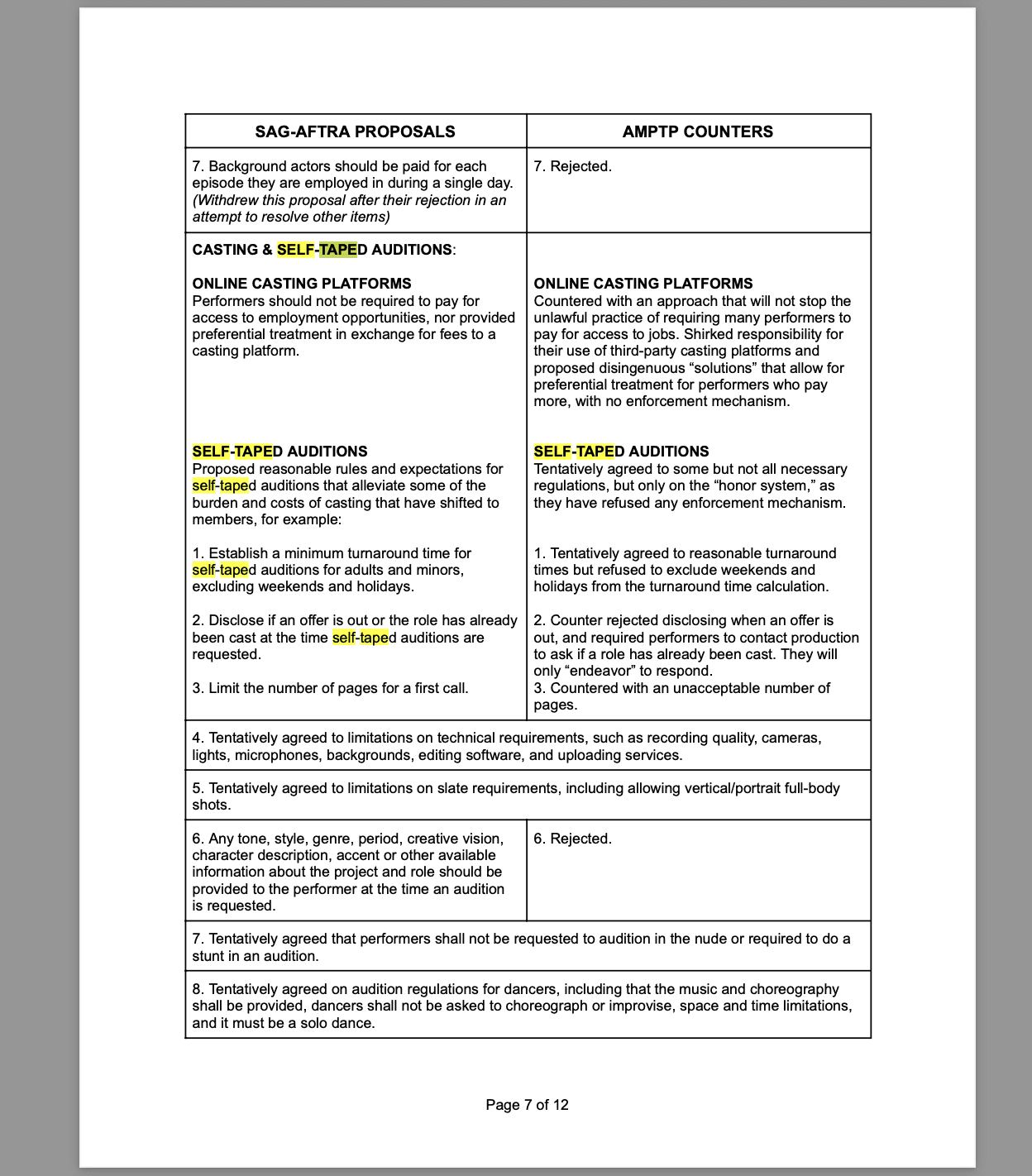 In Conclusion
Self-taped auditions are undoubtedly here to stay, revolutionizing the casting process in the entertainment industry. By prioritizing equity, transparency, and efficiency, the industry can ensure that self-taped auditions continue to benefit both performers and casting professionals alike.
Comments
comments