Article first read on Entertainment Heat.
Most of us know that workout songs and music can help you to exercise harder. If you understand how sound and music actually change your brain waves, you can use this knowledge to alter your mental and physical performance states with laser accuracy.
It sounds geeky, but I'm going to explain how…
At first glance, brain waves seem a bit like "woo-woo" science, and it can be a bit intimidating and confusing to understand how they work.
Your brain is made up of billions of brain cells called neurons, and your neurons (just like the rest of your body) use electricity to communicate with each other. As you can probably imagine, these millions of neurons sending signals all at once produces an enormous amount of electrical activity in your brain, and this can actually be detected using medical equipment like an electroencephalography (EEG), which measuring electricity levels over areas of your scalp.
When you graph the electrical activity of your brain using EEG, you generate what is called a brainwave pattern, which is called a "wave" pattern because of its cyclic, wave-like nature.
Brainwave patterns are generally categorized like this: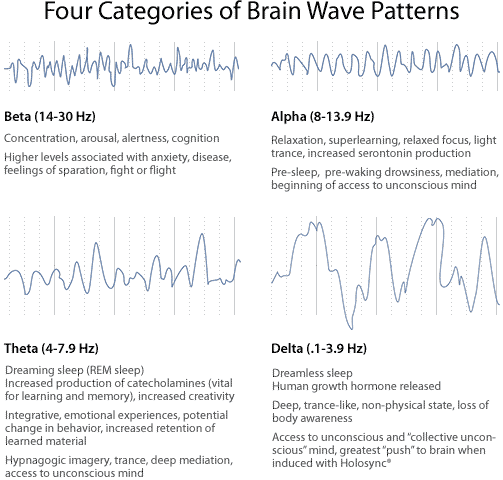 Most of us live the majority of our lives in a state of primarily beta brain waves – aroused, alert, concentrated, but also somewhat stressed.
When we lower the brain wave frequency to alpha, we can put ourselves in an ideal condition to learn new information, perform more elaborate tasks, learn languages, analyze complex situations and even be in what sports psychologists call "The Zone", which is a state of improved focus and performance in athletic competitions or exercise. Part of this is because being the slightly decreased electrical activity in the brain can lead to significant increases in feel-good brain chemicals like endorphins, noroepinephrine and dopamine.
So, for example, when you meditate, you are focusing on something, whether it's a candle flame or your breath going in or out, or a mantra or a prayer. When you focus like that, the electrical patterns in your brain slow down and relax, and the amplitude of your brain-waves generally stabilizes in the alpha wave range.
But it turns out that you don't need to be a trained monk or meditate for weeks on end to be able to achieve this state of alpha brain wave relaxation.
Instead, you can use a concept called "brainwave entrainment" to get the same effect.
Brainwave entrainment is any method that causes your brainwave frequencies to fall into step with a specific frequency. It's based on the concept that the human brain has a tendency to change its dominant EEG frequency towards the frequency of a dominant external stimulus (such as music, or sound).
The type of sound frequencies that are typically used in brainwave entrainment are called "binaural" beats. The way that these work is that two tones close in frequency generate a beat frequency at the difference of the frequencies.
I know this sounds complicated, but it's pretty simple to understand when you think about it. For example, a 495 Hz audio tone and 505 Hz audio tone (whether overlaid in music or in a sound frequency) will produce a 10 Hz beat, roughly in the middle of the alpha brain wave range, like this: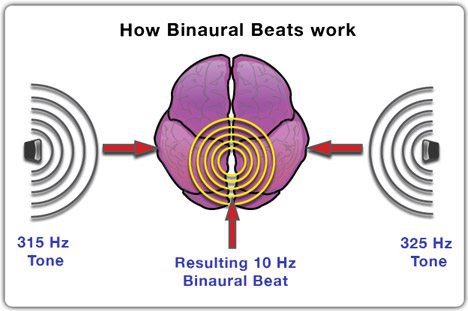 Comments
comments